You have arrived here because you are interested in Illustrated Stationery.
If you want to include in your catalog a collection designed by me, you're in luck! Notepads, stickers, notepads, postcards, washi tapes... From sketches to printing files, I create for your store a whole range of products with a specific theme to reach the hearts of paper lovers.
Illustrated Stationery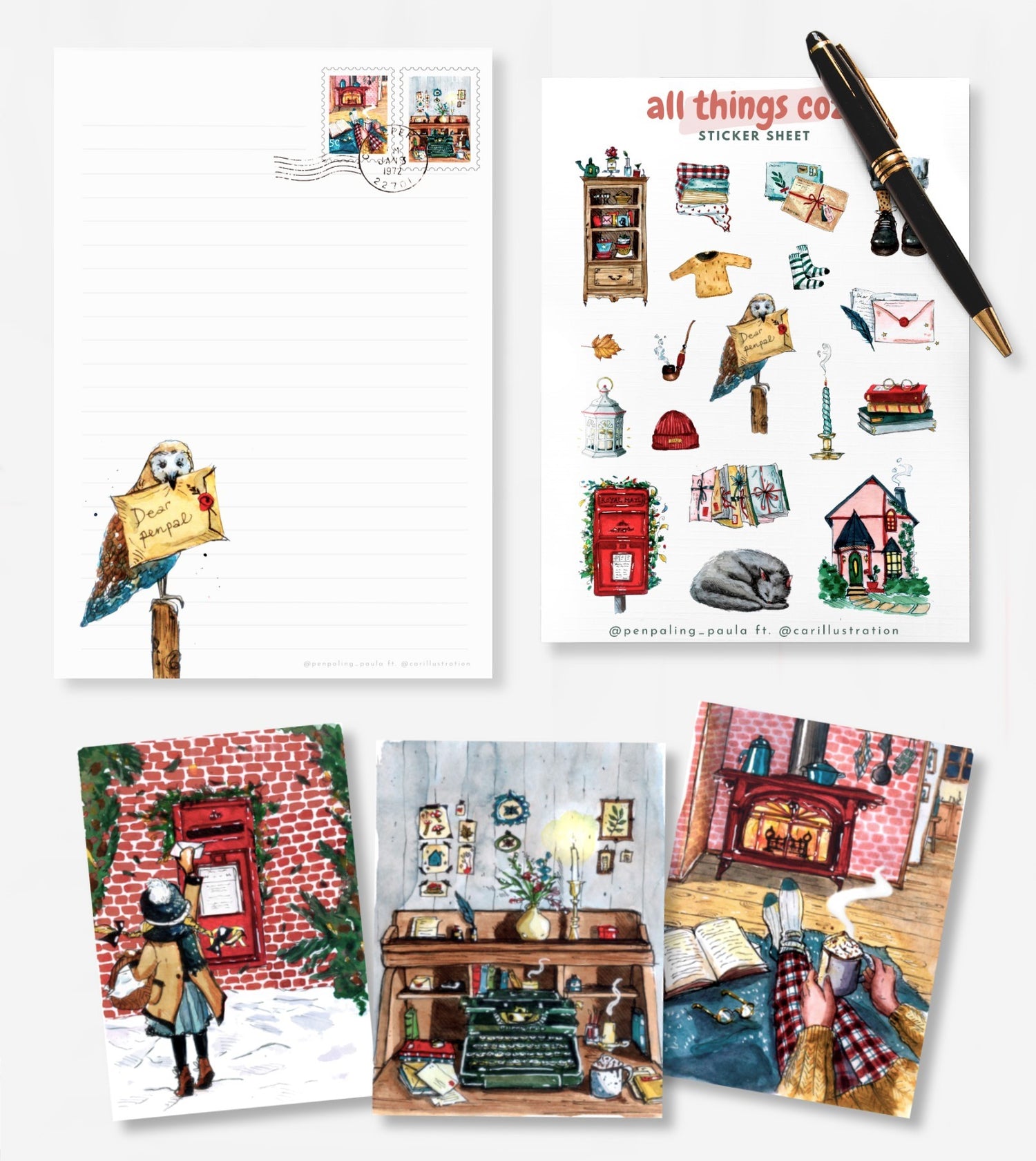 Product features

It consists of the creation of a series of illustrations of a specific theme (examples: books and writing, magic and fantastic beings, botany...) to apply them to a collection of various products within the field of stationery.

After agreeing on this theme and a color palette, I create the illustrations by hand with my style using traditional techniques (ink and watercolor), which I will then scan and edit until they are ready to be included in the products.

Depending on your way of working, I can give you the illustrations so that you can be the one to layout the products, or I can layout them myself, so that you only have to send them to be produced.
Budget

The budget is estimated in a personalized way for each order, since there are factors that can influence the price: if it is high season, the margin of time we have to send it to production, if the theme is complex or the diversity of products you want us to make.
What does it include?

The quote will include:

- A joint brainstorming session in which we will choose the theme, types of objects you could draw for that theme, advice regarding color and styles, etc. This is essential for the project to be coherent and its execution to be brilliant.
- The realization of the complete set of illustrations.
- The elaboration and layout of the products, if necessary.
Deliverables and shipping

I will send your files by email as soon as the project is finished, in JPG/PNG format (illustrations) and/or PDF (print files).
How do I order mine?

To order your Illustrated Stationery Set, I need you to fill out the form below (or send me an email) telling me who you are and what idea you have regarding the project (what is your brand like, what do you want it to convey, what has caught your attention? other drawings of mine. what types of products do you want us to make...). The more precise you are, the better I will visualize the creation of your products .

I will answer you in an email and we can talk about your illustrations . I will also give you a personalized budget and an estimate of delivery times in case I can take your order (depending on how full the agenda is).

Once the order is accepted, I will send you this order form by email, which I will have filled in with the data referring to your project . This serves so that both parties are clear about all the points of the project before starting it (scope, delivery date, budget for materials to be delivered...) and that there is good communication at all times :) This file is of a personal nature and does not will be shared with no one else.
Additional information

Examples of products we can create:
- Notepads and planners
- Postcards
- Die cut stickers
- Letter pads
- Washi tape
- Bookmarks
- Calendars
- Notebooks, journals and travel journals
- Illustrated scratch off maps
- Experience scratch off sheets
- Scrapbooking papers
- Greeting cards
- Gift wrap
- ...I'm open to new ideas!
Tell me your idea and we'll talk about your order :)
Or send me an email to carillustration.art@gmail.com
IMPORTANT! The clearer you have your idea, the easier it will be to give shape to your project... Describe in a clear and detailed way your proposal and we will create together something that you will really love.
Keep in mind that this is a self-managed project (I do everything by myself). Therefore, I usually have a lot of work. Even so, I'll try to get back to you as soon as possible :)