Print Owl Eyes
Regular price
Sale price
€14,95
Unit price
per
Sale
Sold out
Print of "Owl Eyes", a magical illustration, colorful and full of tenderness, with a Scottish touch. The little magician and her companion the owl lean out to greet you as if you knew each other before... What will they be up to?
Pssst! You have a little surprise... Scroll down this page to discover the story behind this illustration.
size and features

A4 size (21 x 29.7cm)
Semi-matte paper, 350g
Printed with white perimeter margin of approx 1.5cm
Does not include frame!
Share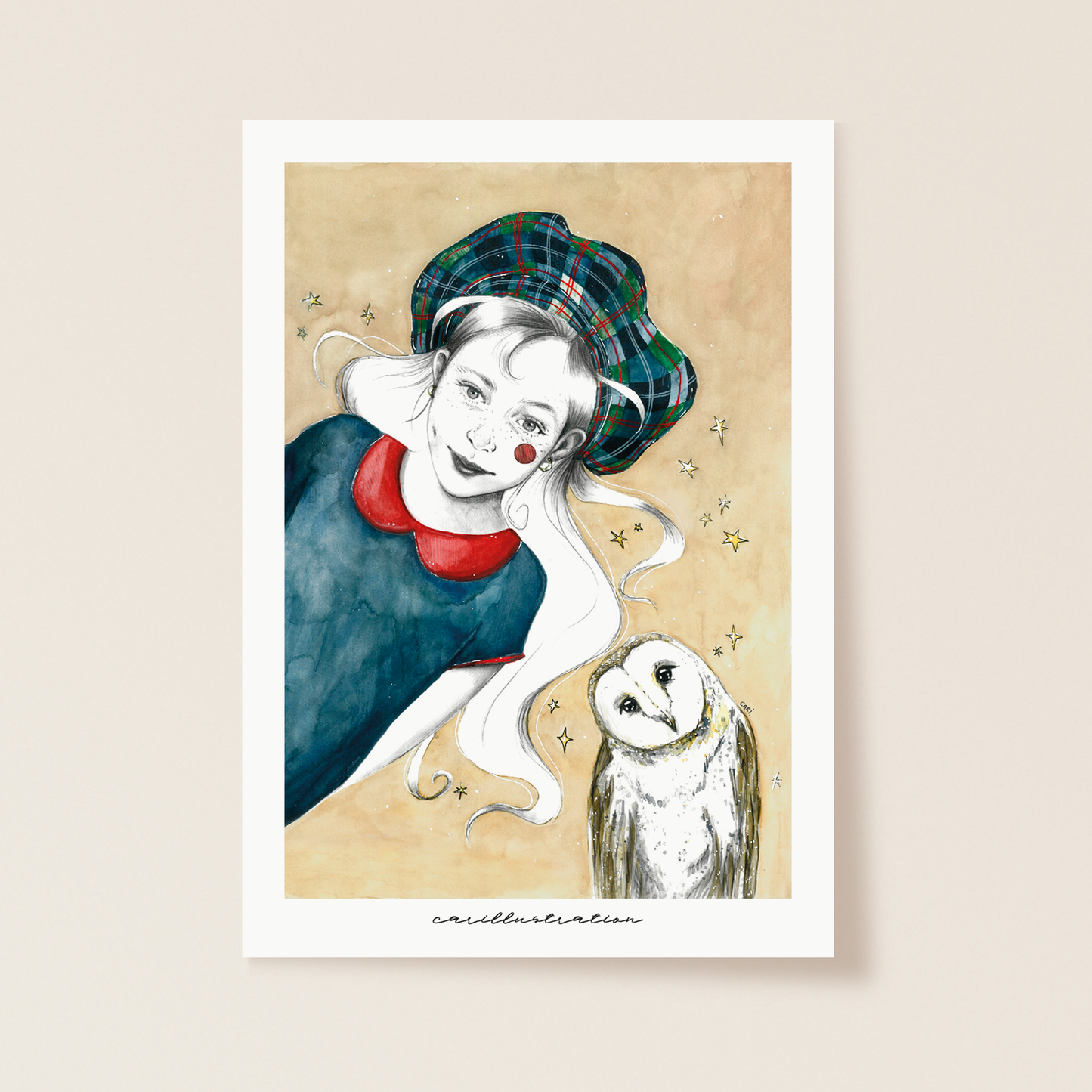 If this illustration were a text...
Unfold to delve into the history of this illustration

OWL EYES

In the upstairs room, Cassandra and her owl, Oak, moved quietly, whispering and giggling. They were definitely up to something...

Under the uneven threshold of the door, so old and worn that it left a considerable gap in the floor, exclamations and laughter rose from the party that had been taking place all afternoon on the lower floor.

Maggie, Eliza and Ari had come to spend the afternoon and celebrate the birthday of Juniper, Cassandra's older sister. Since they lived in that old Victorian house (inheritance of Grandma Eloise), any excuse was valid to organize an evening full of sweets, music and anecdotes. It was not surprising, since life in Edinburgh with its rainy climate made it easy for one to become fond of being at home and doing anything to make the days more cheerful.

Cassandra loved that philosophy…deep down she understood Juniper and it was fun having her friends around often. He almost considered them family; one week they would make homemade cupcakes together, another they would throw a costume party, camp out in the living room, or invite neighbors to participate in a self-sponsored craft workshop.


However, Cassandra considered that she had too much inner world to spend the day socializing with the grown-ups. She liked to spend time alone in her nice mental room, imagining fantastic worlds and talking to Oak about all the charms she had learned that week from reading Juniper's books. She had secretly written letters to every magic school in the country, hoping she might be lucky enough to attend one even though she wasn't of legal age yet. Desire was not lacking ... and intelligence either.

So there she and Oak were that afternoon with a new find that had Cassandra ecstatic: Upstairs in the attic, in the bit of wall between the bed and the closet, they had found a little secret room! A kind of corridor that must once have served as a refuge (it is common in houses of the time). In Cassandra's eyes, a hiding place like this was the best thing that could have happened to her that rainy afternoon.

It took them a while to move the bed (Oak kept making noises and dropping feathers) and pry the door open with a metal ruler, inevitably ripping off the William Morris wallpaper that covered it.

But, once inside the passageway...

[TO BE CONTINUE]


(Car illustration © All rights reserved)