You have arrived here because you are interested in beautiful wedding stationery.
If you want a fairytale wedding, the key is that there is a common thread in all the details. That it represents you, that you feel comfortable with everything on that day. I know firsthand what it's like to plan a wedding, the excitement, the stress, the effort to make it the most special day in the world.
And, since I did it for myself... why shouldn't I do it for others? My way of helping you is to design your wedding stationery set with illustrations that speak of you and a clean, careful design, full of personality. I want it to be something you will always remember.
Illustrated Weddings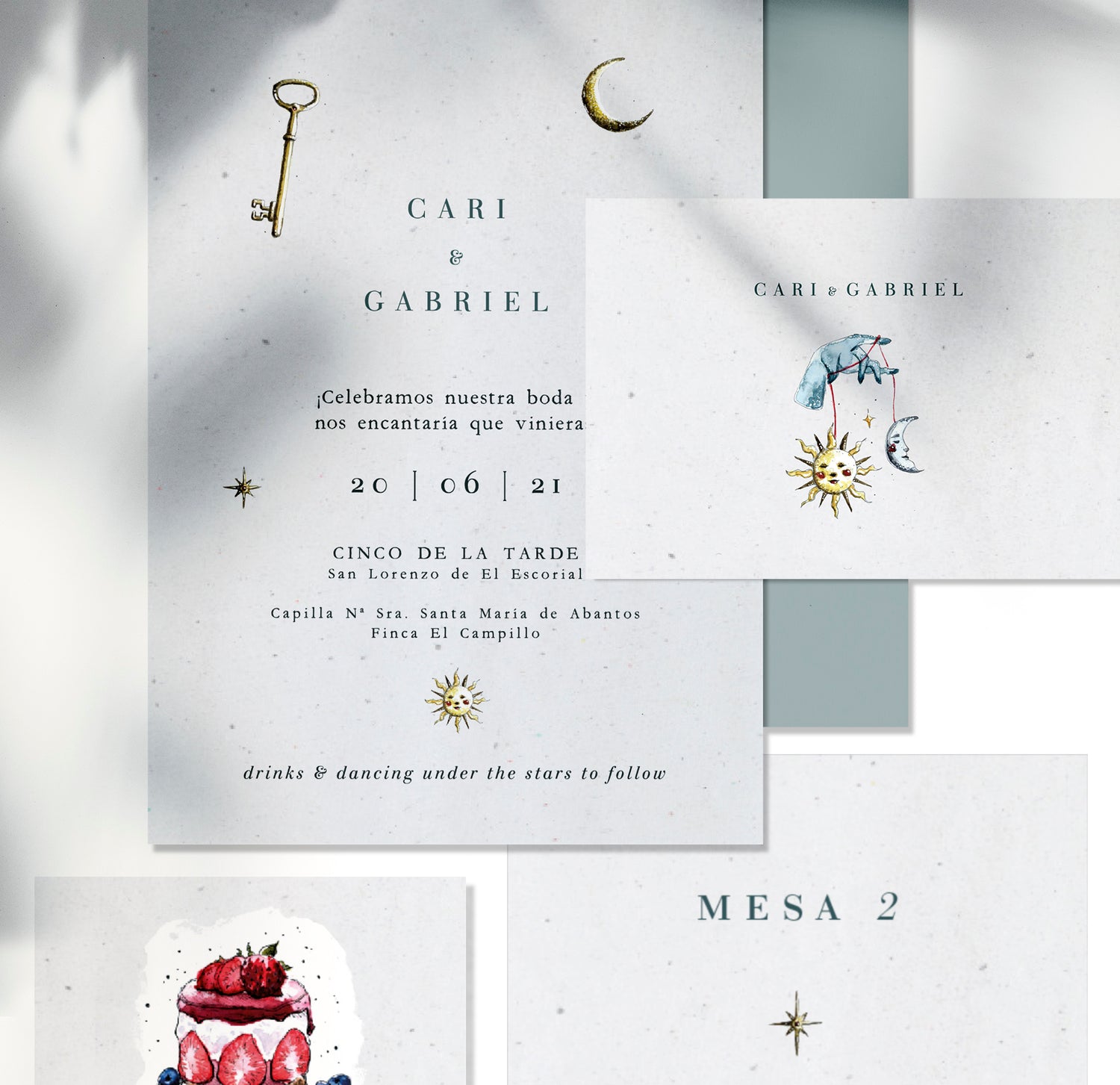 Product features

It consists of creating a set of stationery products with illustrations that (without being portraits) represent your character and the setting of your wedding.

On the one hand, it would give you a choice between three basic templates in which you could choose the color and typography style that most convinces you ( example: Marta and Paco like summer colors and celebrate a casual wedding near the sea; however Ana and Luis are more of pastel colors and they are into the elegant and minimalist ).

On the other hand, the illustrations would originally be done by hand with ink and watercolor and would later be included in the stationery. They will be a reflection of the atmosphere of your wedding and you as a couple. ( Example: Gabriel and I at our wedding wanted to give it a magical and fanciful touch, we included details such as the key, which is very much our element, and the sun and the moon referred to the summer solstice, the central idea of our wedding )
Budget

Each budget is estimated individually for each order, as there are factors that may slightly influence the price: if it is high season, if it is needed with little time in advance, the amount of products you need ....

But, to give you an idea, a set of Invitation + Menu cards + Table numbers (which I consider to be the basics) could be around 150€.
What does it include?

The budget includes:
- Joint brainstorming session with the bride and groom (by email or call, to determine your style and advise you on style, etc.)
- Set of illustrations for your wedding stationery
- Layout files of your wedding stationery

does NOT include printing of the stationery, although I can offer recommendations of where I printed mine.
Deliverables and shipping

I will deliver the final print files (cards already laid out, with illustrations included) in PDF or JPG format, via email .

EYE! Keep in mind that these files will not be subject to modification in principle. In the case of invitations or menu minutes (if the date, place and menu of your wedding day are already set), there should be no major problem. However, if for example we make Seating Plan cards (the cards where the table number appears and the guests who will sit at it), it is possible and probable that there may be last minute changes (reorganization of the tables, guests who cancel your assistance)...

In this case, I would make the preliminary files for you and if there are changes later, a supplement would be charged and I could modify them. Or I would pass you the editable template so that you can modify them if you have knowledge of Photoshop / Illustrator.

What I want is to be able to make your life (and the wedding) easier and do things with common sense and good understanding .
How do I order mine?

To order your Illustrated Wedding Set, I need you to fill out the form below (or send me an email) telling me who you are and what your wedding will be like (what you want me to convey, what things represent you as a couple, your favorite colors, when and where you will get married, if you have made any compilation of inspiration photos for the wedding...). The more precise you are, the better I will visualize your creation.

I will answer you in an email and we can talk about your project. I will also give you a personalized budget and an estimate of delivery times in case I can take your order (depending on how full the agenda is).

Once the order is accepted, I will send you this order form by email, which I will have filled in with the data referring to your project . This serves so that both parties are clear about all the points of the project before starting it (what we are going to do, delivery date, budget...) and that there is good communication at all times :) This file is of a personal nature and does not it will be shared with no one else .
Additional information

If you don't know how to visualize exactly "what things could go in the illustrations", don't worry. It's normal and that's why I'm here .

To help you with the task, we will have that joint brainstorming session that I mentioned in the "What's included?" section. . But if you want to go to the session with part of your homework done, I ask you some questions that may be useful:

- What adjectives describe our wedding? Rustic, elegant, spring, cheerful, festive, magical, geek, Mediterranean, winter, serious, carefree, simple, traditional, modern, hippie, indie, vintage, dynamic, calm, youthful...
- What time of year and where will our day be celebrated?
- Are we into vibrant or delicate colors? Warm or cold?
- Are we minimalists ( less is more ) or maximalists ( less is a bore )?
- What is the most important thing for us, on the wedding day? The ceremony, the place, the party, the food... Making your list of priorities will make you focus on what really brings you and manage your effort, time and money intelligently.
- Are we practical, or extremely detailed?

As you may have seen, these tips will not only help you to design stationery, which is an accessory. It is an exercise that will help you FOR EVERYTHING. Being clear about the feeling of what you want to convey, the common thread of the wedding... the rest comes out on its own and will go in line with it . The search for alliances, photographers, table decor and even music.

Even if you've come this far out of curiosity and don't intend to make stationery for your wedding, I hope these tips will shed some light on you ;)

Tell me your idea and we'll talk about your order :)
Or send me an email to carillustration.art@gmail.com
IMPORTANT! The clearer you have your idea, the easier it will be to give shape to your project... Describe in a clear and detailed way your proposal and we will create together something that you will really love.
Keep in mind that this is a self-managed project (I do everything by myself). Therefore, I usually have a lot of work. Even so, I'll try to get back to you as soon as possible :)