You have arrived here because you are interested in Tattoo Design
A drawing, a word or a combination of both. Minimalist and semi-realistic style. In black and white or color. We do a brainstorming session together until we define a concept that is 100% you!
Tattoo Design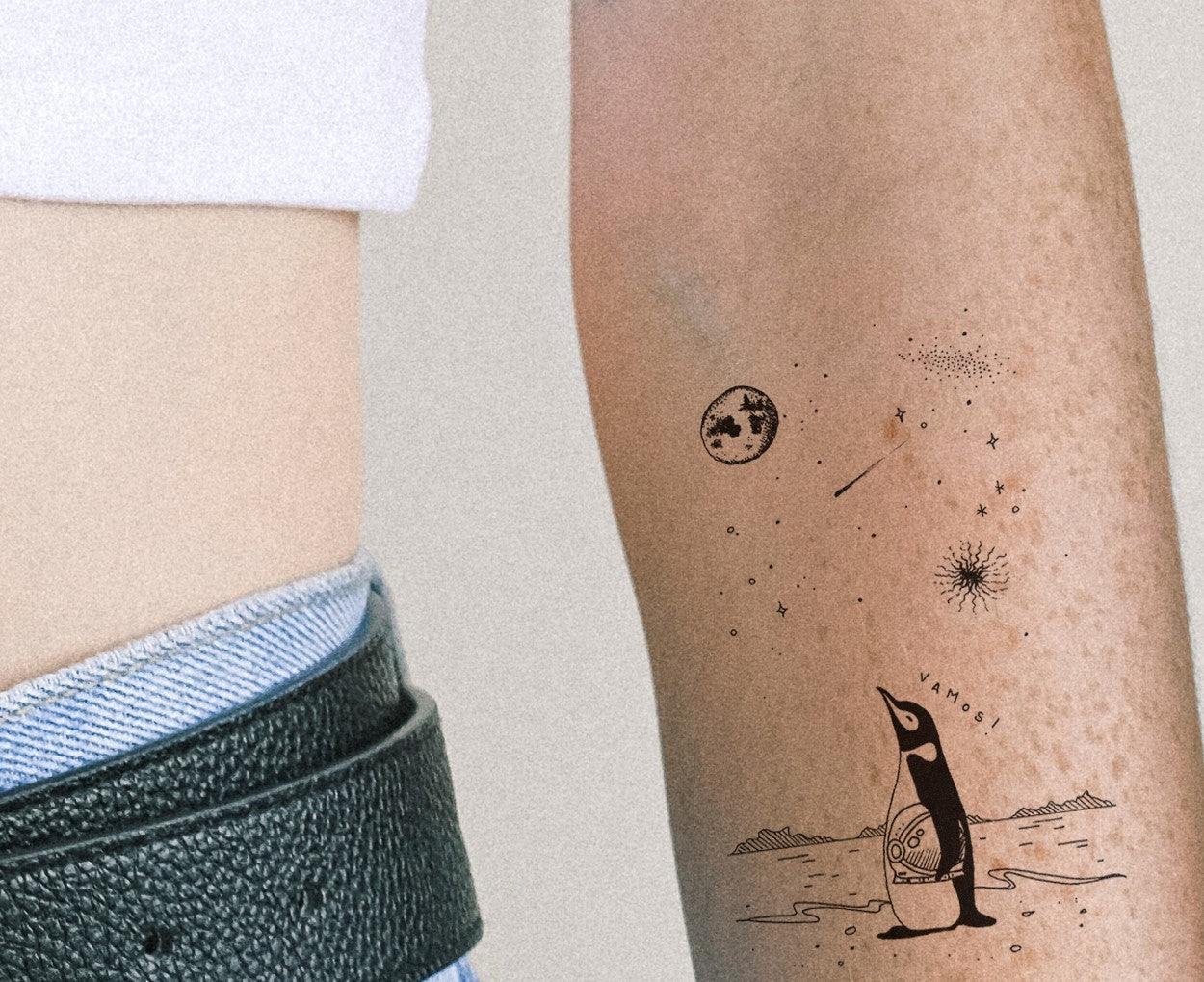 Product features

I design an illustration for you, so that you fall in love and take it to tattoo on the canvas that is your skin :)

It can be in black and white or color, more minimalist (fineline) or more artisanal (handmade strokes, with shadows, discontinuities...)

The important thing is that it represents something valuable about you or your vital moment, that it has a hidden meaning that only you and I know and that is captured there in a more obvious or more metaphorical way.
Budget

Each order is different and I will estimate the budget in a personalized way, depending on the size, complexity, level of urgency, if it has color or not, number of elements present in the composition... It is not the same to get a tattoo of a word with a little drawing next to it, than a composition of three animals in color. Do you understand?

However, to give you an idea, a tattoo in the style of the photo (black and white, minimalist style) could be around 50-60€. If there were several more realistic elements and with color, it could be between 80-100€.
What does it include?

The budget includes the following:

- Client-creator orientation (we talk by email or video call to visualize your creation, adapted to your tastes, your personality, vital moment and advise you with ideas of how we could capture all that you carry inside you in the visual plane)
- Illustration for tattoo . The illustration is almost always done by hand, in ink (+ watercolor in case of color). When we get to define together the final idea, I would give you three designs (same drawing but with slight variations) so that at the end you can get the tattoo that best suits you.
Deliverables and shipping

- Illustration of your tattoo in PDF or JPG format by email (the version you like the most among the 3 proposals, as I told you in the previous section). This would be what you would take to the tattoo artist ;)
- Optionally, you could ask for a printed copy of your final illustration (+10€) to frame it and have it on your bedside table, for example. This would be sent by registered mail to your home, like when you buy a print.
- Optionally, you can also order your tattoo in wallpaper format (+3€) to have it as wallpaper on your cell phone.
How do I order mine?

To order your Tattoo Illustration, I need you to fill out the form below (or send me an email) telling me who you are and what you think about the tattoo (your story, your tastes, what you want it to convey, what has caught your other drawings of mine...). The more precise you are, the better I will visualize your creation.

I will answer you in an email and we can talk about your illustration . I will also give you a personalized budget and an estimate of delivery times in case I can take your order (depending on how full the agenda is).

Once the order is accepted, I will send you this order form by email, which I will have filled in with the data referring to your project . This serves so that both parties are clear about all the points of the project before starting it (scope, delivery date, budget, materials to be delivered...) and that there is good communication at all times :) This file is personal and it will not be shared with anyone else .
Additional information

All the inspirational photos you can contribute will be a great help. I highly recommend that you spend a little time diving into Pinterest. Come to the brainstorming session with your homework done and everything will flow beautifully!

In the last tattoo assignment I did, my client and I were talking over coffee, we were very comfortable and she (although she knew what she wanted the tattoo to convey), did not know how to visualize it, to materialize it in visual form. Well, we understood each other so well that in less than 10 minutes we had the idea clear and the drawing mentally sketched!

This is the feeling I want to have with you, because with closeness and understanding wonderful things come out.
Tell me your idea and we'll talk about your order :)
Or write me an email at carillustration.art@gmail.com
IMPORTANT! The clearer you have your idea, the easier it will be to give shape to your project... Describe in a clear and detailed way your proposal and we will create together something that you will really love.
Keep in mind that this is a self-managed project (I do everything by myself). That's why I usually have a lot of work. Even so, I'll try to get back to you as soon as possible :)